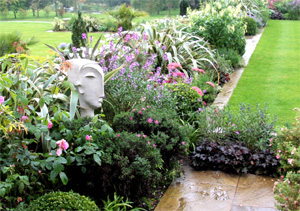 Sue will meet you at your home/site to talk through your requirements in more depth and discuss what you want from your garden. You can ask Sue for her advice on what to do with your garden, or you can commission her to design and project manage changes or improvements that you are looking to make. Discussions can cover:
Use – Relaxing, entertaining, purely visual, family.
Style – contemporary, minimalist, classic, exotic, cottage, wild life.
Enhancement – pergolas, ornamentation, pots, sculpture, summer houses, walls.
Water – swimming pools, ponds, pools, lakes, rills, fountains.
Planting -tones, colours, evergreen and winter interest, a client's favourite plant.
Restrictions – establish any planning restrictions or consents.
Service – a completely new design for whole project managed schemes, restructuring tired gardens, replanting, special occasions or purely consultation.
Budget – for complete new gardens, a good guide line is to spend approximately 10% -15% of the property's value for the hard & soft landscaping.
Other considerations – plans for building extensions, screening from adjacent buildings, shelter from prevailing winds, children's play areas, easy maintenance, wheelchair access, vegetable garden.
Following the initial meeting, a detailed fee proposal will be sent to you along with a summary of your brief, plus some feedback and comments which might have an impact on the design.
---

Before any design work can commence, Sue will survey the site to establish the aspect, levels, views, soil analysis, site condition, manhole covers, water points, and access. This will involve taking measurements, photographs, and soil samples. She will note any constraints and take details of any existing items that you might wish to retain. Large and more complex sites will require a professional survey. Costs for this will be supplied in advance.
---

Using the survey and your brief, a coloured plan is produced, outlining the proposals for the design, showing the garden layout, defining the areas of soft and hard landscaping and suggestions for materials, backed up with illustrations. This initial scheme may need fine tuning before it is finally approved by you.
---

Following acceptance of the master plan, Sue will produce detailed drawings so that the contractors can provide quotes for the construction work. Plans are to scale, showing the site layout details with construction notes and dimensions. Further drawings showing sections and elevations may be required for more complex structural works.
---

A full written specification of works, along with the detail drawings will be sent to contractors to quote for construction of the build. At this stage you can source your own contractor or use one of Sue's recommendations.
---

This stage needs attention to detail and careful management. Sue has extensive experience of working closely with contractors, overseeing her projects to ensure that the build and implementation of her design is of excellent quality and to the correct specification. Working in this way ensures that any alterations are managed quickly and efficiently. Throughout the construction, Sue will make regular site visits and hold meetings both with you and the contractors to iron out any building issues or concerns. Sue can check invoices, carry out snagging inspections, and work with the contractor to correct any faults that may come to light.
---

Sue will produce a larger, scaled drawing to show the position and size, along with planting instructions for each tree, shrub, hedge, perennial and bulb. She will discuss in depth with her clients the selection of plants and colour schemes using a library of illustrations to assist with more specific choices. Not all clients require a planting plan. As an alternative, Sue can bring a selection of suitable plants to site and position them within the gardens' borders.
---

Sue provides a planting service which is carried out by her team of experienced and professionally trained soft landscapers. She sources, supplies, and personally selects all the plants from specialist nurseries, to ensure good quality, suitability, and consistency. She oversees the placing of the plants on site, to make sure they are in the correct position and of the best orientation before finally being planted. You may wish to get your hands dirty and to do your own planting, implementing the planting plan, with Sue just supplying the plants.
---

The site contractor can normally construct the majority of water features including rills, small pools and ponds. For larger projects such as larger pools & lakes Sue will use reputable specialised companies, with your agreement, to carry out the work.
---

Lighting enhances and brings a garden to life at night. It can provide security, can highlight focal points and fountains, can illuminate trees and pathways and can also create a soft romantic mood with foliage under lit by low level spotlights.
Subtle lighting in the garden can be used to illuminate the plants or simply to light a space to enjoy your garden for longer in the evening. Sue will recommend suitable lighting throughout the garden, including paved and decked areas and the inside and outside of garden buildings. She is able to prepare layouts and obtain quotations for specialist lighting schemes.
---

Irrigating a garden removes the worry about watering plants when clients are away or busy. It gives a uniform distribution of water and minimises nutrient loss. Drip irrigation systems can use up to 80% less water than traditional watering methods and also, by keeping foliage dry, reduces the risk of disease. Sue can liaise with irrigation installation companies to provide a suitable system to suit your garden.
---

It may be necessary to submit plans to the local planning authorities to apply for permission for garden buildings and structures, authorise tree work or carry out work in conservation areas. Sue is experienced in managing this process successfully and can act as an agent for any planning submissions.
---

Sue's project management service relieves you of the pressure during the construction phase, ensuring that the job runs smoothly. Sue will source and choose the right companies to undertake the work based on quality, price, and experience. She will also make regular site visits to ensure that design and construction is to the correct specification and that contractors and tradesmen keep to the agreed timescales. She will keep all parties updated on developments and manage all day to day issues.
When required, Sue can liaise and work with architects, garden building suppliers, lake contractors, swimming pool companies, electricians, and irrigation installers to provide a complete project managed service.
---

This service is offered on an hourly basis, it can be useful to clients who just want advice on what to do with their gardens, for instance, restyling of a border and suggestions of suitable plants to include in it.
---

Sue can prepare gardens for one off events such as weddings, parties and celebrations. Sue and her planting team, can revitalise gardens, add an extra splash of colour to borders, replant specific areas, and source ornamentation; such as urns, pots, containers, small archways.
---

The final touches to complete and reflect the style of a perfectly designed garden is the addition of furniture and ornamentation. Sue can source and select items including pots, urns, sculptures, statues, seats, benches, dining tables, arbours and archways.
---
Not everyone has the time or knowledge to maintain their garden. Sue can help by preparing maintenance schedules with detailed instructions for seasonal pruning, feeding etc. Sue can also make regular visits, especially in the first year, to ensure that everything is developing as it should.
---